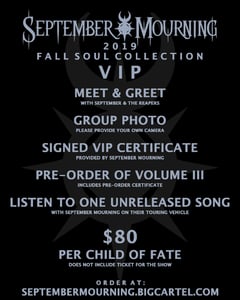 $

80.00
September and The Reapers are offering an exclusive chance to hang out with them before their Soul Collection in your town. During your time together, you'll receive a signed VIP certificate, a pre-order certificate for Volume III and you'll also be able to listen to an unreleased track from the upcoming EP! While you're there you'll be able to take a photo with the band!
A few things to note:
This offer does not include admittance into the show. You'll still have to purchase a ticket from an authorized seller or at the door.
There are limited spots for each show so act now before we are unable to fulfill your request.
Be sure to give us a valid email address/phone number in case we need to contact you. Also provide a valid mailing address so we can ship the Volume III bundle to you in December.
Last but not least, be sure to select the show you are attending so we can properly process your order.
When it gets closer to the show date, Fate will contact you to let you know what time the VIP will occur. Times will fluctuate from show to show but generally VIP should happen within an hour before or after doors open to the show.